Description
Technical data
Displacement cm³ 35,2
Performance kW 1,6
Weight kg 1) 4,4
Power-to-weight ratio kg/kW 2,8
Oil tank volume cm3 200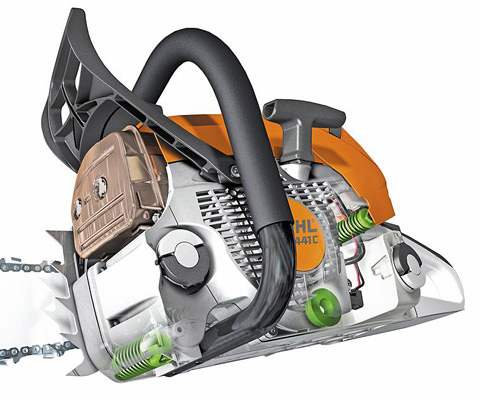 STIHL anti-vibration system
Precisely calculated buffer zones minimise the transfer of engine and saw chain vibrations to the front and rear handles. The chainsaw therefore runs noticeably smoother. This allows the user to save their strength and work longer.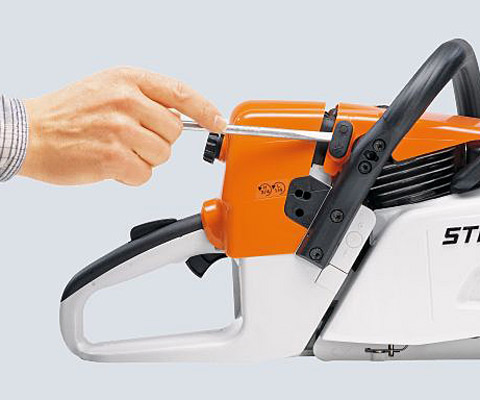 Carburettor heating (V)
By changing the chain saw from summer to winter operation, the intake air is pre-heated over the engine fins. This ensures that the carburettor does not ice up and you can continue working in freezing temperatures.

Tool free fuel caps
Special caps to open and close the tank cap quickly, easily and without tools.

STIHL Ematic System
Compared to conventional bars without Ematic, the STIHL Ematic system reduces the consumption of chain lubricant by up to 50 %, depending on the type of wood and the cutting attachment used. This system comprises a STIHL Ematic or Ematic S guide bar, a STIHL Oilomatic saw chain and a variable-flow or reduced-flow oil pump. As a result, virtually every drop of chain lubricant is delivered to exactly the right spot.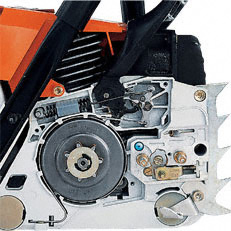 QuickStop Chain Brake
The chain brake on your STIHL chainsaw can be triggered automatically or manually. In both cases, the brake band encloses the clutch drum and prevents the chain starting to move even when the throttle trigger is squeezed. The chain brake is applied manually by pressing the front hand guard on your STIHL chainsaw forwards. It is activated automatically whenever a sufficiently strong kickback is encountered.
Single-lever master control
All important functions such as start, choke, throttle and stop are operated via a single lever.